// OH, Say, can you see... //
The [BLACK] Royal Wedding.
Above: OFFICIAL PORTRAITS of THE DUKE & DUCHESS OF SUSSEX | PHOTO: Alexi Lubomirski Courtesy of @KensingtonRoyal
The TOP 5
#YGBQ MOMENTS of DISTINCTION
// THE DUKE & DUCHESS OF sussex - words by teddy tinson //
1. Bond, SUSSEX BOND.
ROYAL FACT: Meghan IS the very first Duchess of Sussex. The first and only former Duke of Sussex campaigned for the abolition of slavery.
"
I come as one, but I stand as ten thousand.
- Maya Angelou
if only for a weekend, MEGHAN & HARRY's UNION (aND THEIR FABULOUSLY EXECUTED CEREMONY CELEBRATING BLACK PEOPLE AND BLACK CULTURE!) offered a much needed reprieve from the world's madness. LOVE Conquered antiquated tradition, bigoted "NEWS" ITEMS and DYSFUNCTIONAL FAMILIES, and challenged everything considered 'normal' and 'proper'. (AHEM, #colonialism, looking at you!)
despite the optics, it's he, not she, who married well! The papers disparaged their romance (and her provenance) from the start: an american. AN ACTRESS. a "commoner" (their term not ours). a divorcéE. A BLACK/bi-racial divorcée! nevertheless, meghan, ever poised with artfully disheveled tendrils as her signature hairdo, stealthily became her own heroine right before our eyes with the help of her REGAL mother and their sense of community. Her literal 'prince charming' was obviously most accommodating and supportive from the first official kensington palace notice demanding the press cease its insidious bigotry regarding meghan's ethnicity. (also, cue the sweetest lip-bite ever!) while many suspected markle would simply 'sparkle' her way into THE ROYAL FAMILY, falling in line and "passing" on her ethnic ambiguity to the point of assimilation, THE newly minted DUCHESS OF SUSSEX exceeded all expectations and boldly affirmed her african ancestry on the world's stage.
THE CEREMONY itself WAS SOLELY hers and HIS IN THE BEST POSSIBLE SENSE - at once UNEXPECTEDly soulful and DELICIOUSLY irreverent...dare we say, queer! It was also highly traditional while simultaneously SILENCING NAYSAYERS and disarming those longing for more familiar affairs (no pun intended). thEIR union won't eradicate racism. quite the contrary. IF either country's history is any indication, This union might invoke a FEVERISH backlash not unlike the ACTIVE undoing of barack obama's presidenTIAL LEGACY. THOUGH, I'd like to believe, ONCE again, love can aND will conquer all.
in the span of an afternoon, The Duchess rewrote the rules and reshaped history. she promoted the visibility of unapologetically black people in traditionally/predominately [read: staid] white spaces. SHE helped highlight the richness of black culture in its many textures, tones, and testimonial temperaments...because she's a descendant of the original queens and kings. Need proof? HIstory. Also, HER angelic-faced, QUEEn-LIKE MOTHER WHO HELD COURT in solitude, and captivated hearts and minds around the world as a strong, single black mother.
like QUEEN SOPHIA CHARLOTTE OF MECKLENBURG-STRELITZ, ENGLAND'S FIRST BLACK ROYAL, before her, one meghan markle won't end racism. or prejudice. or poverty. or Classism. but it's a welcomed change. It also Doesn't mean every girl has to aspire to marry a prince (or at all!); or that every black girl has to date outside her race, or define herself for anyone other than herself. it also doesn't mean that we've magically transcended the global issues of race, class, and gender. like barack and michelle, or rosa, martin, and malcolm; lena, josephine, and MEGHAN, too - all of those who came before us, who made it all possible - we can, and we must, if only for a moment, believe in fairytales, for joy in the face of adversity is our greatest act of resistance.
cheers to the POWERFUL YOUng, gifted, black, & Queer QUEENS EVERYWHERE, AND CHEERS TO, quite possibly, my favorite philanthropic and impossibly STYLISH (AND incredibly SExY) POWER COUPLE...TO a fulfilling life of providing voiceS for the voiceless, and to happily ever after.
It's a new dawn, a new day, a new life...
2. Reverend Bishop MICHAEL CURRY
// VIDEO | BISHOP Michael Curry — the first Black presiding Bishop of the Episcopal Church //
The Royal Wedding of Prince Harry and Meghan Markle included a 13-minute ceremony from Reverend Michael Curry, the first African-American Presiding Bishop of the Episcopal Church. The passionate meditation on love and self-sacrifice is precisely what the world needed to hear from that chapel, on that platform. The full transcript of Bishop Curry's sermon below.
And now in the name of our loving, liberating and life-giving God, Father, Son and Holy Spirit. Amen.
From the Song of Solomon, in the Bible:
"Set me as a seal upon your heart,
as a seal upon your arm;
for love is strong as death,
passion fierce as the grave.
Its flashes are flashes of fire,
a raging flame.
Many waters cannot quench love,
neither can floods drown it."
The late Dr. Martin Luther King, Jr once said, and I quote: "We must discover the power of love, the redemptive power of love. And when we discover that, we will be able to make of this old world a new world, for love is the only way."
There's power in love. Don't underestimate it. Don't even over-sentimentalize it. There's power - power in love. If you don't believe me, think about a time when you first fell in love. The whole world seemed to center around you and your beloved.
Oh there's power - power in love. Not just in its romantic forms, but any form, any shape of love. There's a certain sense in which when you are loved, and you know it, when someone cares for you, and you know it, when you love and you show it - it actually feels right. There's something right about it.
And there's a reason for it. The reason has to do with the source. We were made by a power of love, and our lives were meant - and are meant - to be lived in that love. That's why we are here.
Ultimately, the source of love is God himself: the source of all of our lives.
There's an old medieval poem that says: "Where true love is found, God himself is there".
The New Testament says it this way: "Beloved, let us love one another, because love is of God, and those who love are born of God and know God. Those who do not love do not know God. Why? For God is love."
There's power in love. There's power in love to help and heal when nothing else can.
There's power in love to lift up and liberate when nothing else will. There's power in love to show us the way to live.
"Set me as a seal on your heart, a seal on your arm, for love is as strong as death."
But love is not only about a young couple. Now the power of love is demonstrated by the fact that we're all here. Two young people fell in love, and we all showed up. But it's not just for and about a young couple, who we rejoice with. It's more than that.
Jesus of Nazareth on one occasion was asked by a lawyer to sum up the essence of the teachings of Moses, and he went back and he reached back into the Hebrew scriptures, to Deuteronomy and Leviticus, and Jesus said: "You shall love the Lord your God with all your heart, all your soul, all your mind and all your strength. This is the first and great commandment. And the second is like it: Love your neighbor as yourself."
And then in Matthew's version, he added, he said: "On these two, love of God and love of neighbor, hang all the law, all the prophets, everything that Moses wrote, everything in the holy prophets, everything in the scriptures, everything that God has been trying to tell the world — love God, love your neighbors, and while you're at it, love yourself."
Now, someone once said that Jesus began the most revolutionary movement in all of human history. A movement grounded in the unconditional love of God for the world and a movement mandating people to live that love. And in so doing to change not only their lives but the very life of the world itself.
I'm talking about some power. Real power. Power to change the world. If you don't believe me, well, there were some old slaves in America's Antebellum South who explained the dynamic power of love and why it has the power to transform. They explained it this way. They sang a spiritual, even in the midst of their captivity. It's one that says "There's a balm in Gilead..." a healing balm, something that can make things right.
"There is a balm in Gilead to make the wounded whole.
"There is a balm in Gilead
"To heal the sin sick soul."
And one of the stanzas actually explains why. They said:
"If you cannot preach like Peter,
And you cannot pray like Paul,
You just tell the love of Jesus,
How he died to save us all."
Oh, that's the balm in Gilead! This way of love, it is the way of life. They got it. He died to save us all. He didn't die for anything he could get out of it. Jesus did not get an honorary doctorate for dying. He wasn't getting anything out of it. He gave up his life, he sacrificed his life, for the good of others, for the good of the other, for the wellbeing of the world, for us.
That's what love is. Love is not selfish and self-centered. Love can be sacrificial, and in so doing, becomes redemptive. And that way of unselfish, sacrificial, redemptive love changes lives, and it can change this world.
If you don't believe me, just stop and imagine. Think and imagine a world where love is the way.
Imagine our homes and families where love is the way.
Imagine our neighborhoods and communities where love is the way.
Imagine our governments and nations where love is the way.
Imagine business and commerce where this love is the way.
Imagine this tired old world where love is the way.
When love is the way - unselfish, sacrificial, redemptive.
When love is the way, then no child will go to bed hungry in this world ever again.
When love is the way, we will let justice roll down like a mighty stream and righteousness like an ever-flowing brook.
When love is the way, poverty will become history.
When love is the way, the earth will be a sanctuary.
When love is the way, we will lay down our swords and shields, down by the riverside, to study war no more.
When love is the way, there's plenty good room - plenty good room - for all of God's children. Because when love is the way, we actually treat each other, well... like we are actually family.
When love is the way, we know that God is the source of us all, and we are brothers and sisters, children of God.
My brothers and sisters, that's a new heaven, a new earth, a new world, a new human family.
And let me tell you something, old Solomon was right in the Old Testament: that's fire.
Pierre Teilhard de Chardin - and with this I will sit down, we gotta get y'all married - French Jesuit Pierre Teilhard de Chardin was arguably one of the great minds, great spirits of the 20th century. Jesuit, Roman Catholic priest, scientist, a scholar, a mystic.
In some of his writings, he said, from his scientific background as well as his theological one, in some of his writings he said - as others have - that the discovery, or invention, or harnessing of fire was one of the great scientific and technological discoveries in all of human history.
Fire to a great extent made human civilization possible. Fire made it possible to cook food and to provide sanitary ways of eating, which reduced the spread of disease in its time.
Fire made it possible to heat warm environments and thereby made human migration around the world a possibility, even into colder climates.
Fire made it possible... there was no Bronze Age without fire, no Iron Age without fire, no Industrial Revolution without fire. The advances of fire and technology are greatly dependent on the human ability and capacity to take fire and use it for human good.
Anybody get here in a car today? An automobile? Nod your heads if you did - I know there were some carriages. But those of us who came in cars, fire - controlled, harnessed fire - made that possible.
I know that the Bible says, and I believe it, that Jesus walked on the water. But I have to tell you, I did not walk across the Atlantic Ocean to get here.
Controlled fire in that plane got me here. Fire makes it possible for us to text and tweet and email and Instagram and Facebook and socially be dysfunctional with each other.
Fire made all of that possible, and de Chardin said fire was one of the greatest discoveries in all of human history. And he then went on to say that if humanity ever harnesses the energy of fire again, if humanity ever captures the energy of love - it will be the second time in the history of the world that we have discovered fire.
Dr. King was right: we must discover love - the redemptive power of love. And when we do that, we will make of this old world, a new world. My brother, my sister, God love you, God bless you, and may God hold us all in those almighty hands of love.
3. Prebendary ROSE HUDSON-WILKIN, Chaplain to The Queen
// GOD IS A BLACK WOMAN | # Y G B Q Excellence, ROYAL WEDDING Edition //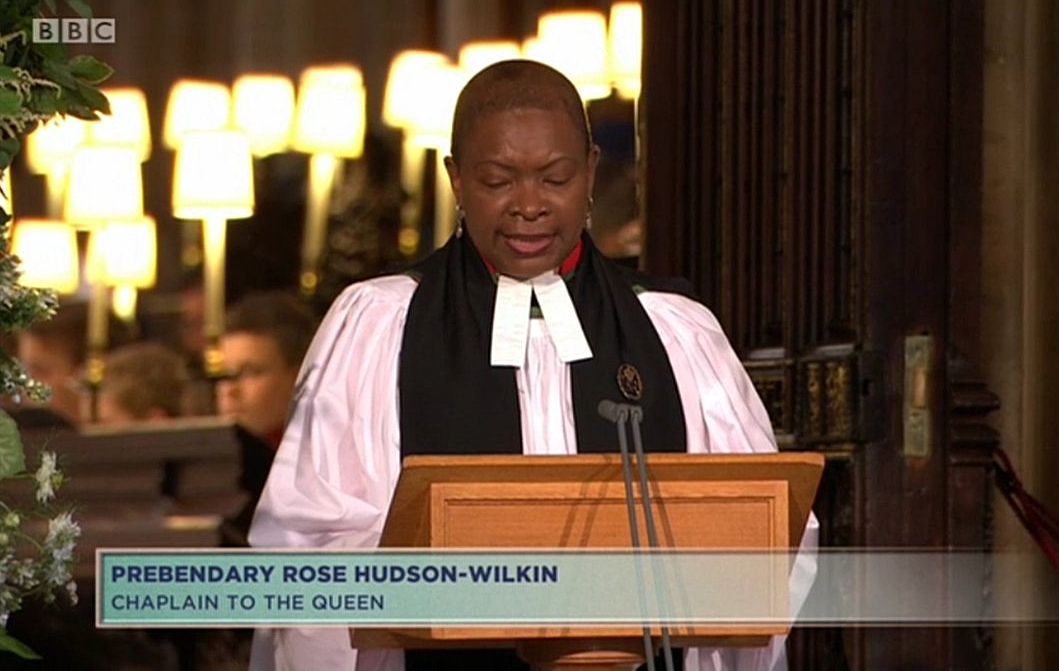 THE DUKE AND DUCHESS of sussex WERE LED IN PRAYER BY The Reverend Prebendary Rose Hudson-Wilkin, chaplain to the queen.
HUDSON-wilkin is the first black woman to hold the role of Queen's chaplain; She is also Chaplain to the Speaker of the House of Commons & Priest Vicar at Westminster Abbey.
4. The KINGDOM CHOIR, South-East England
// VIDEO | "GOD CREATED BLACK People, and BLACK PEOPLE created style." - The colored museum, George C. Wolfe //
5. SHEKU Kanneh-Mason, CELLIST
// VIDEO | the first Black winner of the BBC's Young Musician of the Year Award //
BONUS: The Chapel! The Looks! The Guests! More glorious MOMENTS from MEGHAN & HARRY's gloriously non-traditional wedding celebrations.
OPRAH | SERENA | IDRIS ELBA | PRIYANKA | CAREY | nacho figueras | AMAL & GEORGE CLOONEY | ELTON JOHN | THE BECKHAMS | The QUEEN!
Queen Mutha!
ABOVE: doria ragland (AKA MEGHAN's MOM) & the duchess of sussex, wave to humble servants en route to windsor chapel.
THE DUCHESS OF SUSSEX WEars GIVENCHY HAUTE COUTURE SILK H-LINE GOWN WITH BATEAU NECKLINE BY clare waight keller. The style is a nod to the late monsieur hubert de givenchy and his muse audrey hepburn.
HER VEIL is five meters (16 feet!) of silk tulle embroidered with flowers representing the 53 countries of the British Commonwealth, Kensington Palace, and Queen Mary's diamond and platinum bandeau tiara, which had been lent to her by her new grandmother-in-law, Queen Elizabeth II. The tiara, created in 1932, is dominated by a central brooch that dates to 1893.
Doria ragland WEARS OSCAR DE LA RENTA COAT AND DRESS, STEPHEN JONES MILLINERY BERET.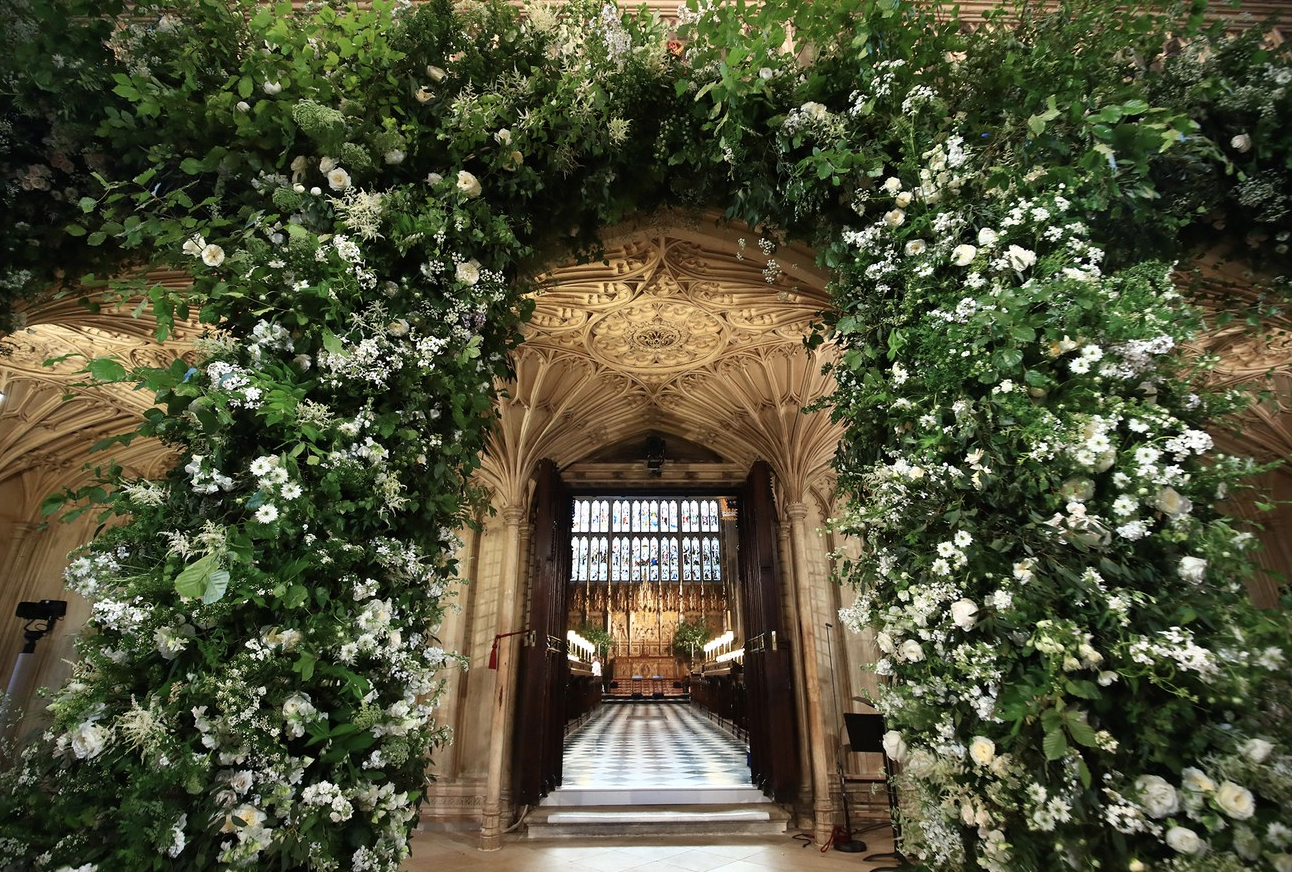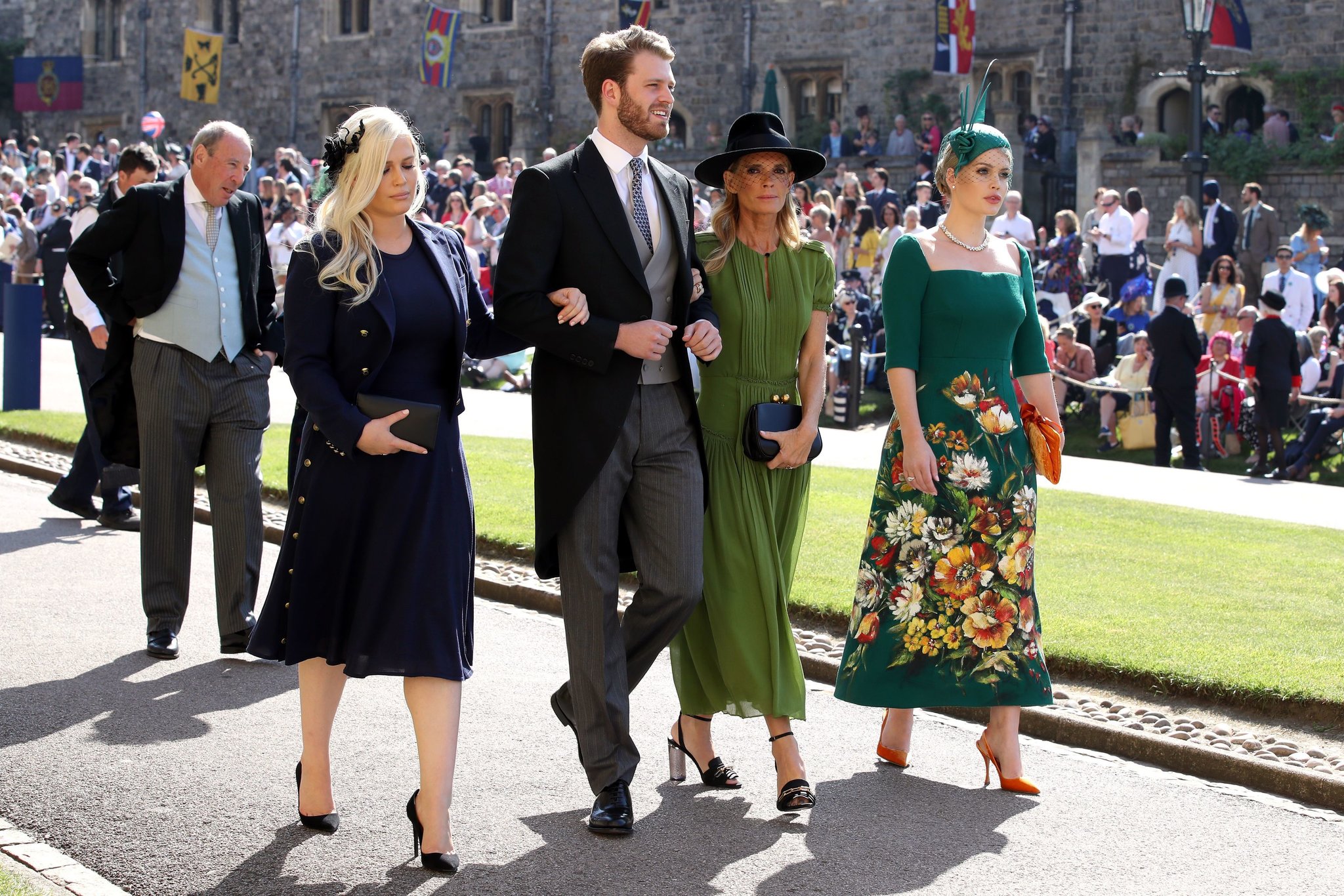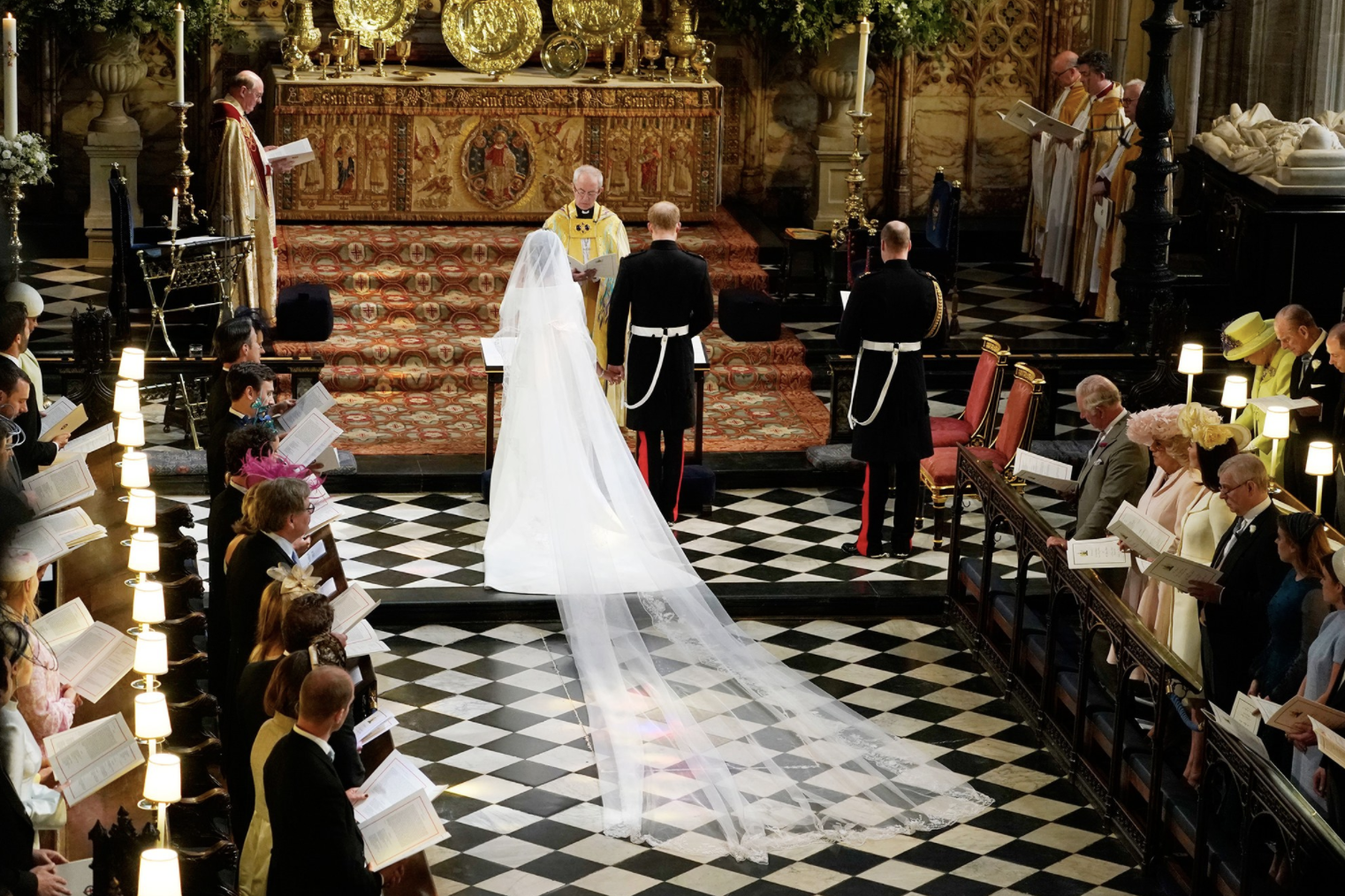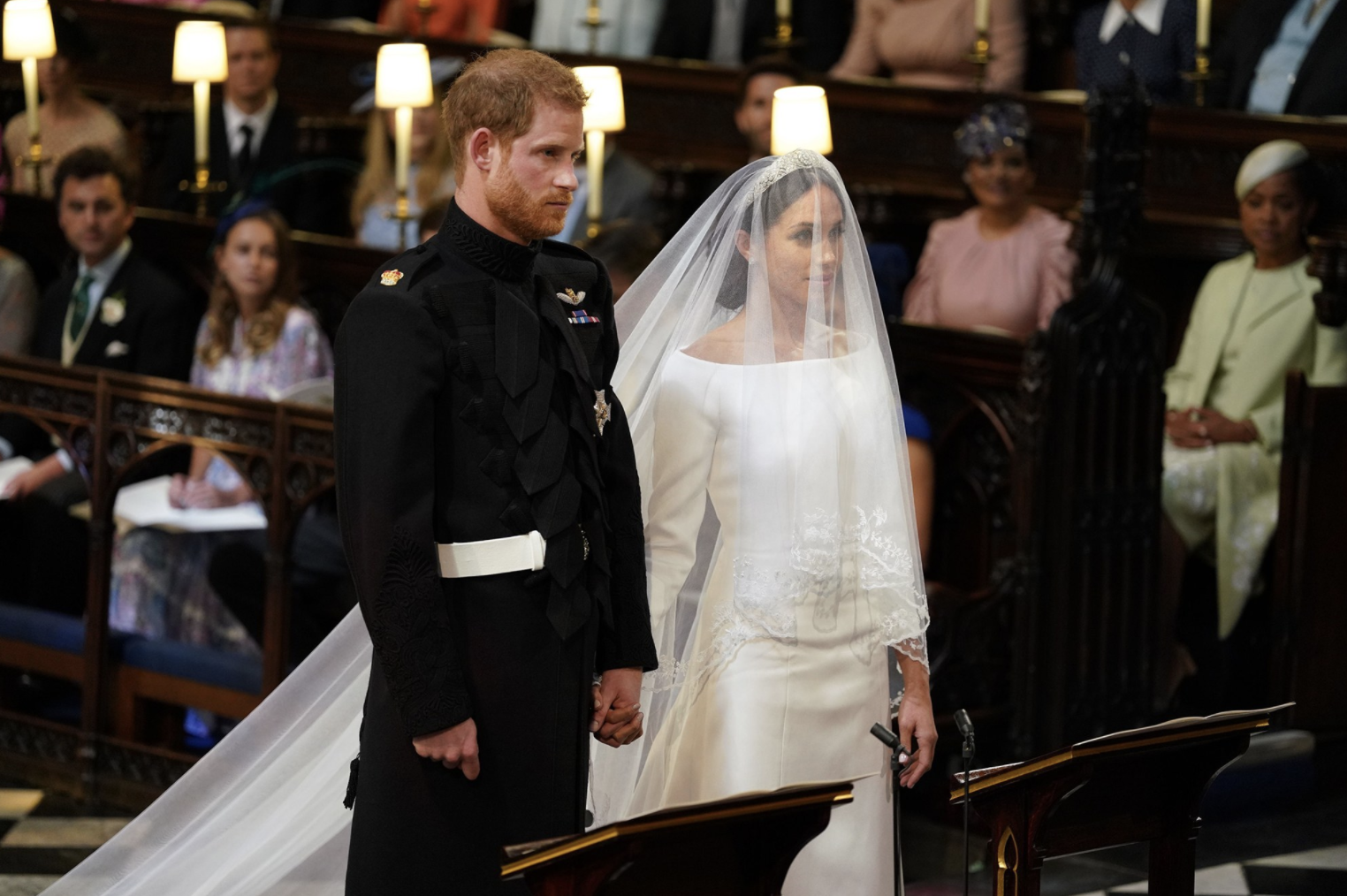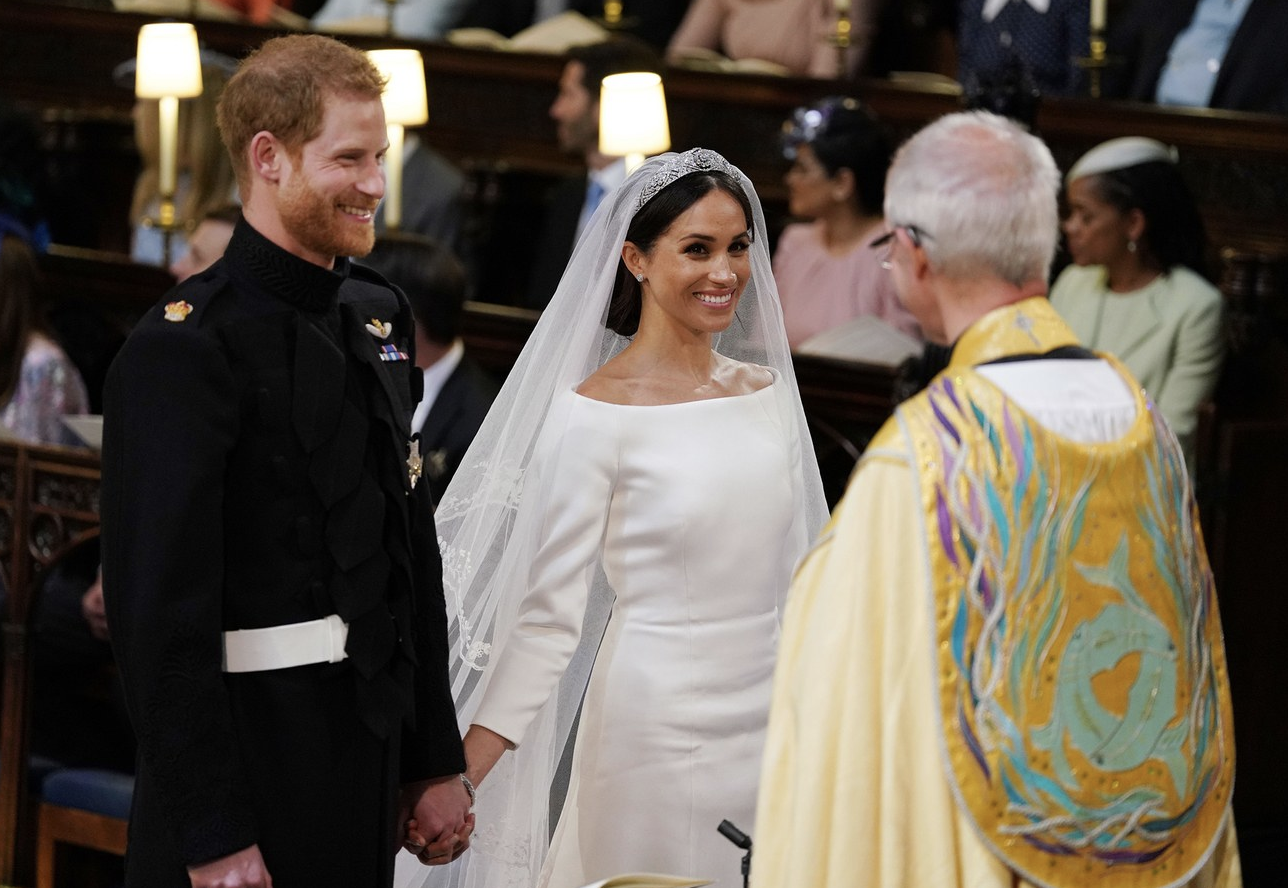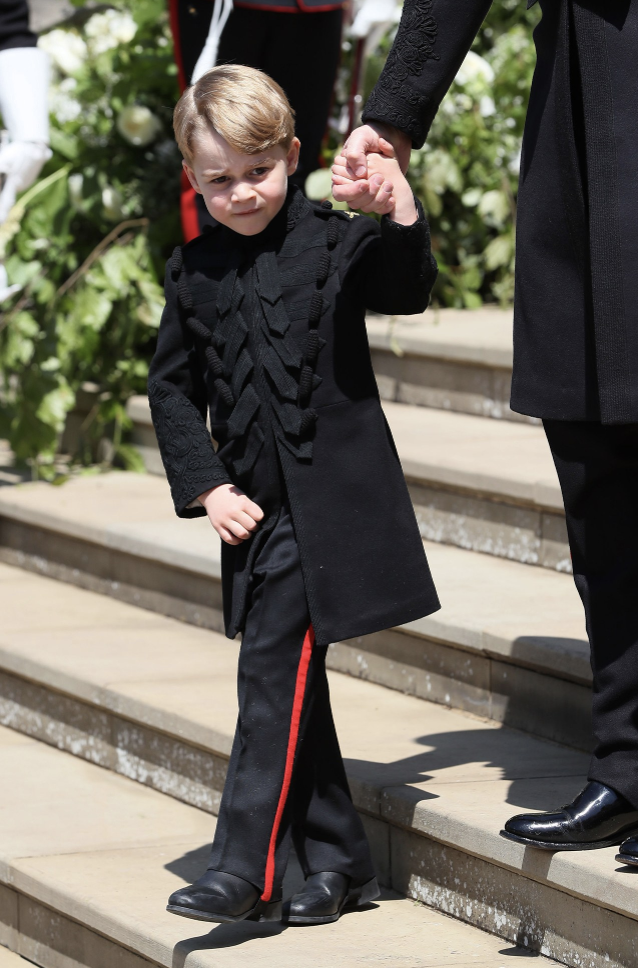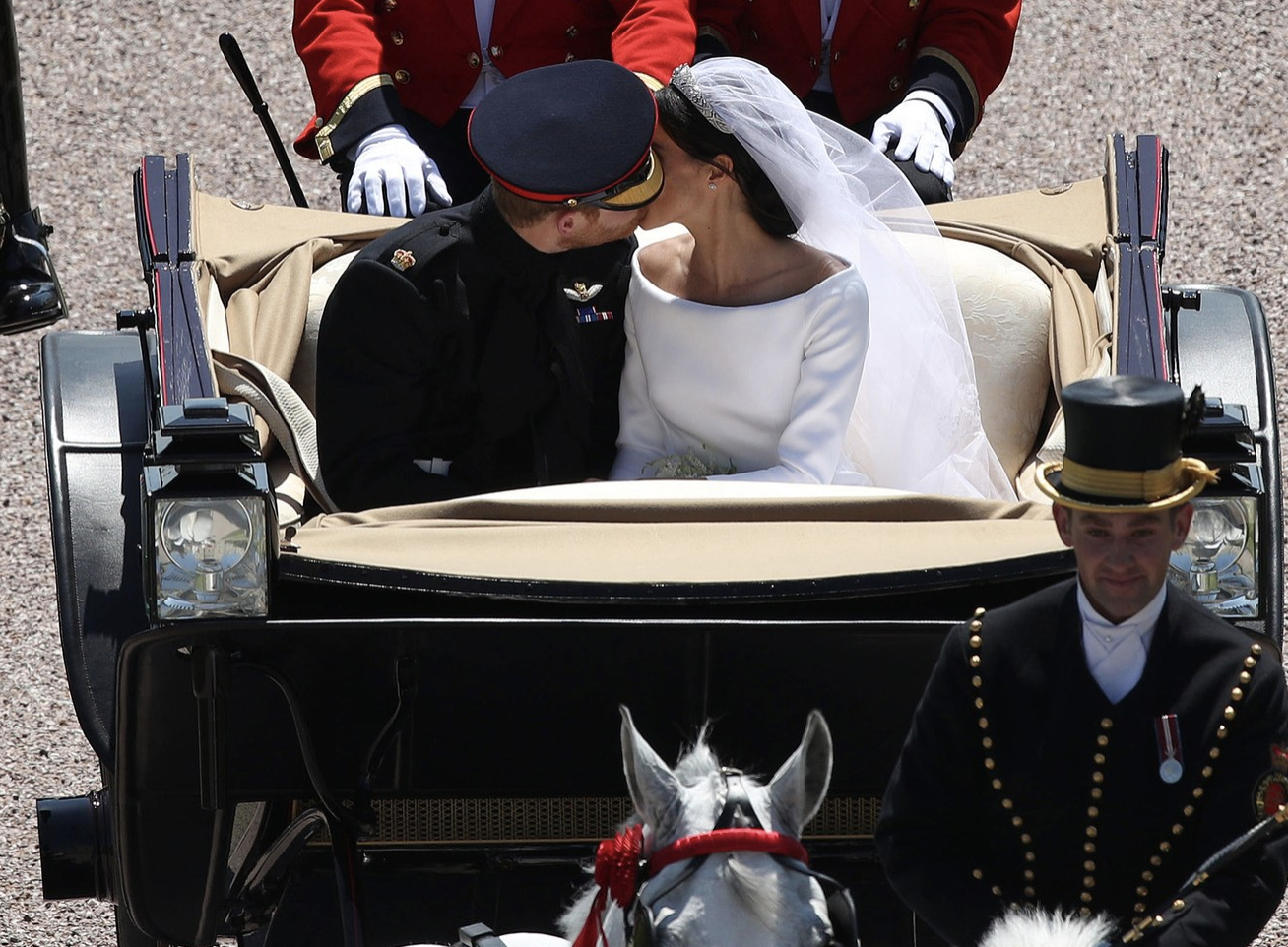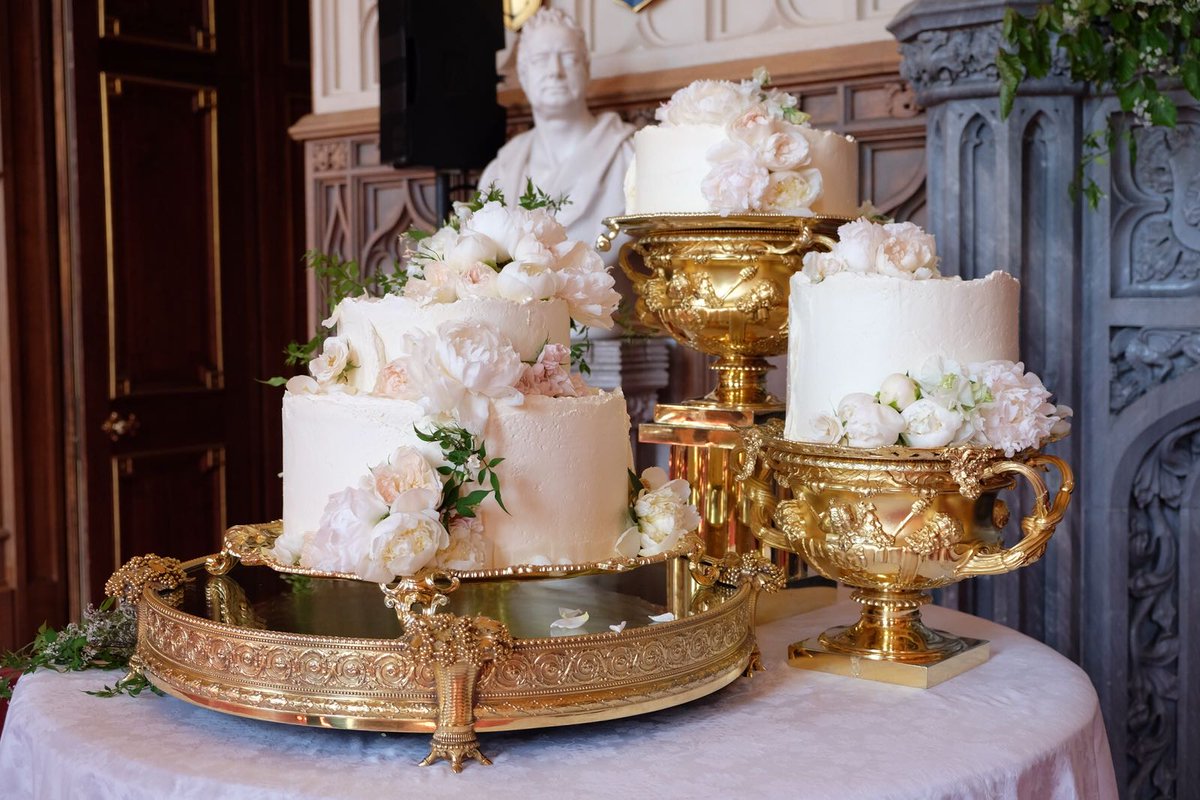 MINIMALIST GLAM - the New MRS. & MR. BOND (AKA THE duke & duchess of sussex) depart Windsor Castle for a reception hosted by The Prince of Wales at Frogmore House.
SOmething borrowed, something blue...
"
I come as one, but I stand as ten thousand.
- Maya Angelou